Again we have to report on shameful attacks perpetrated by cowards. We have summarised various sources for you below and will keep updating throughout the day. Our thoughts are with the families of the victims.
SUMMARIES FROM VARIOUS NEWS SOURCES
Nearly 50 people have been killed in an attack on the main airport in Istanbul, a senior Turkish official has told the Associated Press.
Initial indications suggest Islamic State was behind the attack, the official said.
Three suicide bombers opened fire before blowing themselves up at the international terminal of Ataturk Airport, Istanbul governor Vasip Sahin told NTV television.
Read on SKY NEWS
Roundup of what we know so far:
Multiple explosions (two or three) en gunshots in Istanbul's Atatürk Airport
At least 28 dead, unconfirmed reports of 50 dead, 60 wounded
No flights leaving IST airport, for now at least until 6-29 1700 local time
Reports of multiple attackers, up to seven
As of now, no terrorist organisation has claimed this attack, police sources say they attribute the attack to ISIS.
Social media (Twitter and/or Facebook) are being blocked, only accesible through VPN.
Another attack has happened in the east of Turkey, this is very likely not related.
Most important (graphic) footage:
Follow this as it develops on Reddit Live
---
Video of the bomber being shot by police before the bomb goes off
(WARNING POTENTIALLY DISTURBING CONTENT)
Polisin bombacı orospu çocuklarından birisinin anasını siktiği o an. Çok kişiyi kurtardı bu polis, helal olsun! pic.twitter.com/t5FTqJdgbj

— scofield (@sco1905) June 28, 2016
---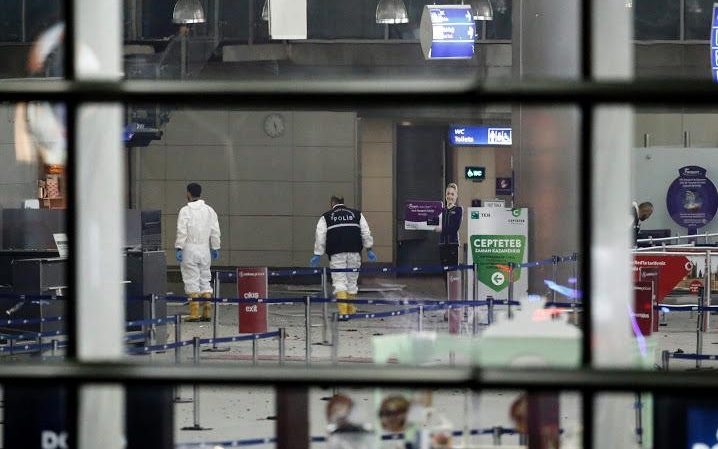 Investigators searching the airport. -The TELEGRAPH (UK)
---
Türk Kızılayı'nın "Yeterli kan stoğumuz var" açıklamasına rağmen kan verme kuyruğu https://t.co/yV6cXSTVWy pic.twitter.com/YMIlE9M8QN

— Al Jazeera Türk (@AJTurk) June 28, 2016
People lining up for blood donations in Istanbul.